How The HotLogic Works
Revolutionary Portable Mini Oven Cooks Meals From Scratch, Re-Heats Leftovers and Keep Food HOT For Hours!
Announcing an evolution in cooking technology. Imagine never having to read a cooking label, set a timer, adjust a temperate, turn on a burner… flip, stir, turn, rotate or even remove your food until you're ready to eat!
The cooking technology of tomorrow is here today! It's called Smart Shelf Cooking by Hot Logic and it's like nothing you've ever seen, and everything you've always dreamed of!
Just think if you could place food (meats, veggies together) in a container and forget about it until you want to eat?
It doesn't matter if the food is fresh, frozen or leftovers. Just toss in in a dish, put on a lid, pop it in the Hot Logicand walk away.
Done!
Seriously!
That's exactly what you can do with the Hot Logic Mini. It's the worlds first cooking device to use "Artificial Intelligence" to think for itself, and it's changing the way America thinks about eating.
There are no buttons, dials or timers so its impossible to screw up a meal!
Just pop a meal in the bag, plug it in and go work or play. Whether you're ready to eat in a hour or 8 hours later, your food will be cooked (or reheated) to perfection; moist, juicy and better tasting than nearly any other form of cooking (especially a nasty microwave).
The Hot Logic uses low-slow conduction heat to bring foods to the ideal temperature and can hold it there for hours without overcooking or drying the food out! You can use any flat-bottom container made of glass, plastic, Tupperware, or metal as long as it had a sealed lid.
---
There's No Easier Way to Have a HOT Meal!!!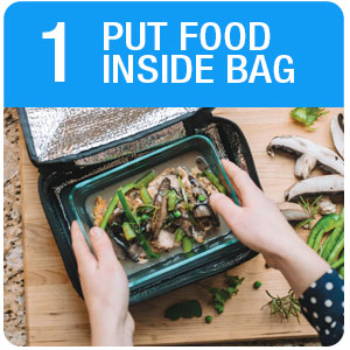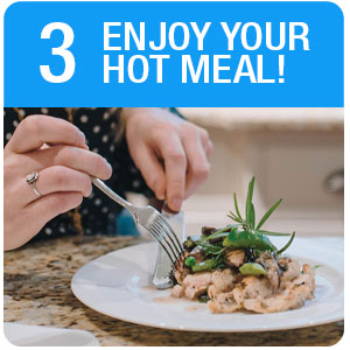 ---
HOW THE HOT LOGIC MINI WORKS

Think of the Hot Logic as a "lunchbox that cooks, re-heats and holds food hot for hours."
It uses a combination of patented Shelf Heating Technology and Smart Software that constantly senses the temperature, and regulates it to cook, heat or hold depending on the feedback coming from the food container.
Use any sealed-lid container: glass, plastic, metal or paper.
The Hot Logic heats to around 218'F, hot enough to kill unwanted pathogens when cooking raw food, but not hot enough to boil. That means foods retain their nutrients and moist, delicious flavor without overcooking or drying out.
Once the unit senses the food has reached the right temperature, it will hold the food at constant 180'F until you're ready to eat.
Use your Hot Logic to cook a raw or frozen chicken breast in about 2 hours! Leftovers or pre-cooked frozen dinners are hot and ready to eat in 30 to 60 mins depending on quantity and thickness.
HEALTHIER
Eliminate cravings and cheating by carrying your own meals!
A HOT meal is more satisfying and stays with you longer!
No wasted nutrients from over cooking or microwaving!
No more "touching" a filthy, contaminated microwave!
Reheat prepped meals, or cook a meal from scratch, however you like!
FASTER
No waiting in line for the lunchroom microwave!
Meal prep takes less than 2 minutes!
No buttons, dials or timers... it's ready when you are!
Lightweight, compact, fits in a duffle and goes everywhere you go!
CLEANER
No spills, splatters or explosions!
No nasty smells like the lunchroom microwave!
No mess, EZ to Clean, just wipe with a damp cloth!
---